Fellow Drummers and those of a percussive persuasion – The Scottish Drum Fest 2016!
It gives me great pleasure to announce that Sunday the 30th of October 2016 will see Scotland's Funkiest Wee Drum shop – dD Drums of course – hosting the 5th Annual Scottish Drum Fest in the amazing venue that is St. Mungo's High School in Falkirk Central Scotland – our drum show home since 2013 .
This year I had the great task of keeping the standard as high as our 4 previous years of the event and after months of working with our favourite suppliers and our growing network of professionals and friends we now know that we're going to smash it!
With a full day of performances lined up from the most highly acclaimed drummers in the world, this years bill will inspire, entertain and educate all who attend without a doubt.
So who's playing?
Sorry for the tease but i'll be releasing details on this years Players and other features of this upcoming event over the next few weeks so keep your ear to the ground and you won't miss it!
For now though, please have a look down this blog recollection of our previous 4 years shows for a taste of dD Drums efforts to bring  the very best in performers and educators all the way up to Bonnie Scotland for your viewing pleasure.
David
Follow the build up to this years event over on Facebook with us by clicking below.
So…
SCOTTISH DRUM FAIR 2012.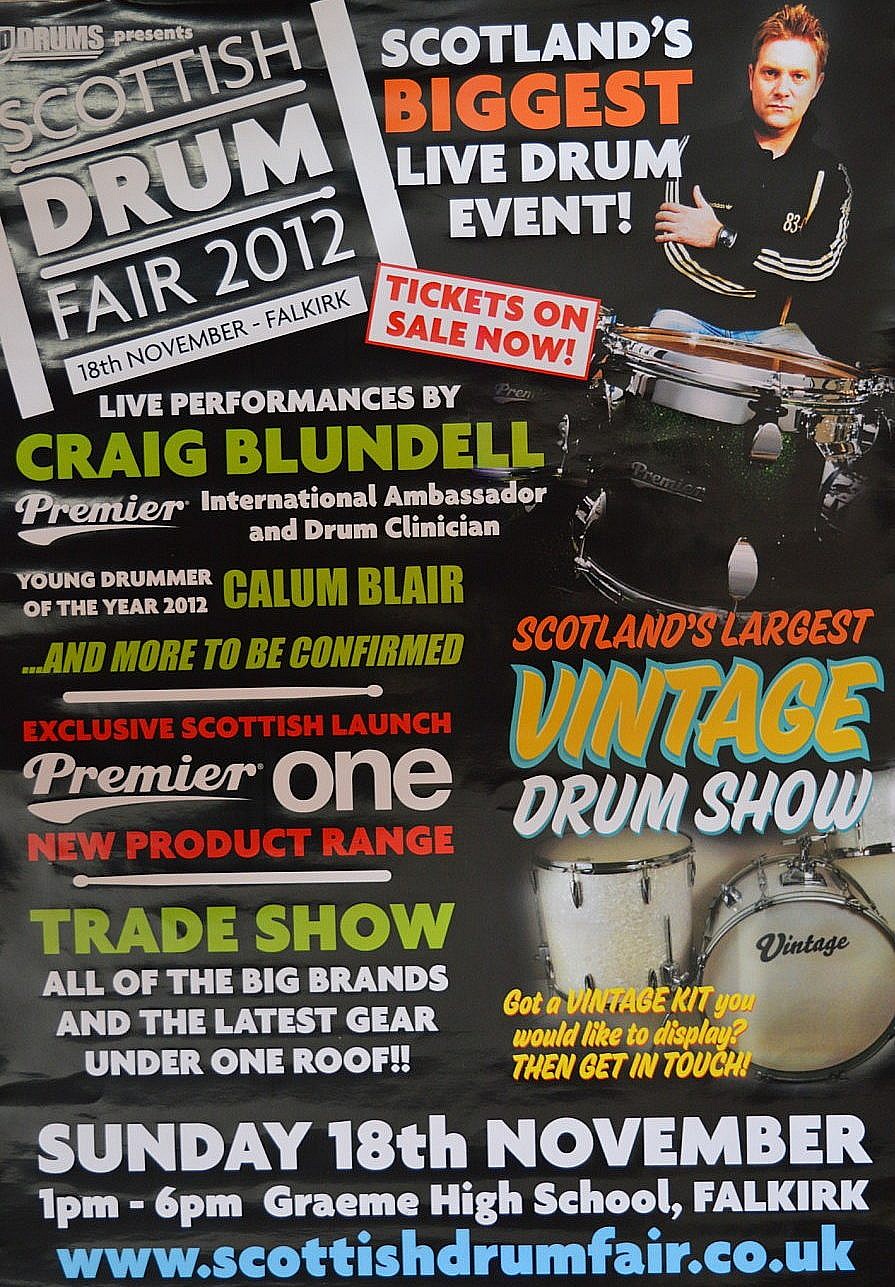 In our first year of the (then) Scottish Drum Fair we had the awesome Craig Blundell in clinic as part of his form over function world tour as headline act. Craig's motivational side shone as bright as his highly skilled musical side and had the whole room inspired with great playalongs and an educational content second to none.
Alongside him were Scottish snare drummer Simon Grant showing a thing or 2 on the art of Pipe Band drumming and Scottish session drumming expert Gordon Wilson playing some great stuff and got right down to the business of how to get hired and stay hired with the likes of Love and Money, Blue Nile and so on.
The healthy turn out also enjoyed the Scottish launch of Keith Keough's drums when he was drum builder for Premier – now of British Drum Co- and his initial run of drum sets called the ONE series. As well as this we had a timeline of Premier drums organised by us in celebration of their 90th year. With the help of the Scottish Drumming Community, Sir Alan 'Drums' Buckley with some of his Vintage pearls and not forgetting the surprise addition on the day from dD friend Nicko McBrain of Iron Maiden who sent up his current kit up to us to be part of this great Premier tribute we assembled a one day museum of kits and snares from 1922-2012.
It was a fantastic day and definitely set the pace for what was to come.
SCOTTISH DRUM FAIR 2013.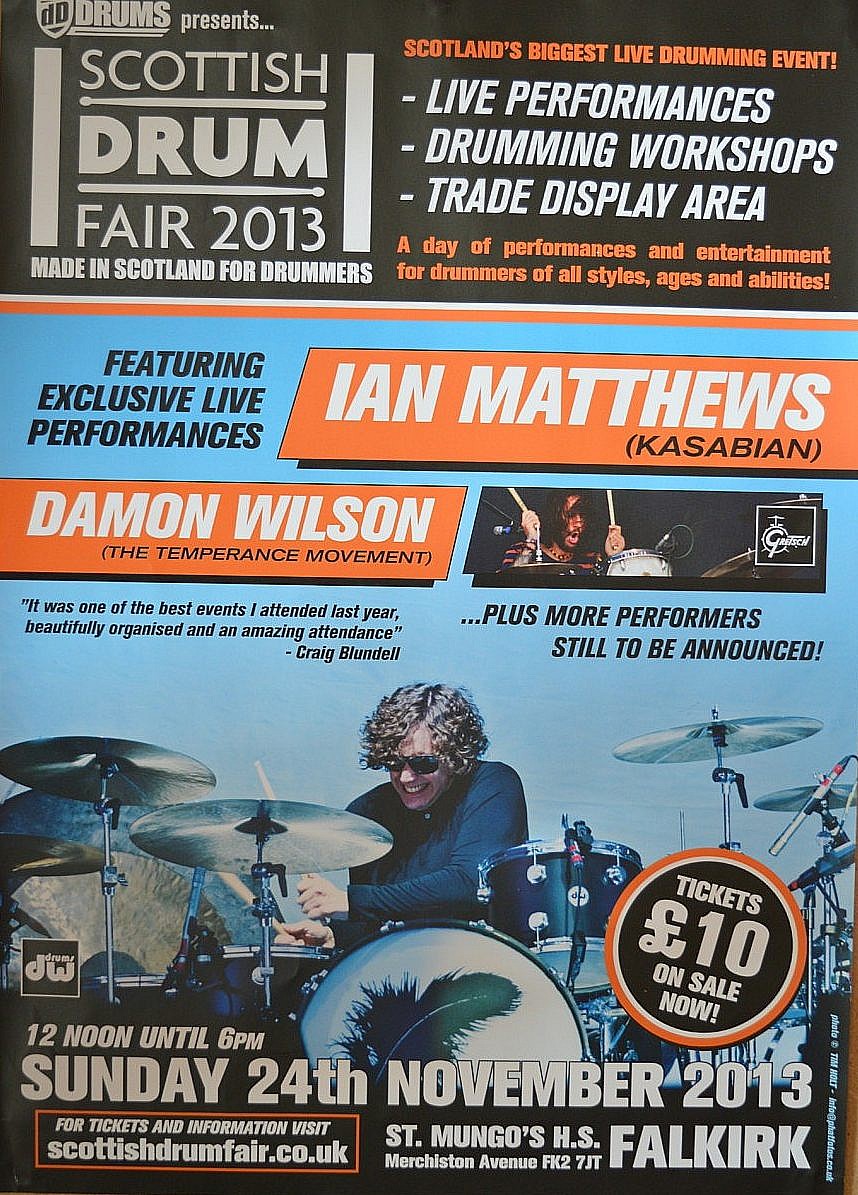 For our 2nd show we kicked off with Simon Grant from the previous year with his drum corp from Preston Lodge Youth Pipe Band.A fantastic performance from these High School kids did Simon proud.
Session drummer and Temperance movement sticksman Damon Wilson then rocked the place and and imparted great advice to the younger player and revealed that he had indeed always been left handed!
Next up was one of our own Scottish greats Stu Brown with an excellent display of Brazilian drumming on kit with an informative clinic on how to develop better grooving and further independence.
Headlining this year we had the one and only Ian Matthews of Kasabian. On a break from touring the world Ian was delighted at the chance to play and was only too happy to show us Scot's what the Kasabian man could do outside of rocking it for the incredible Indie Dance Rockers. Using hands,brushes and sticks he displayed an amazing array of talent then smashed it with some cool Kasabian hits.
The 3 kit drummers then grooved it all out together trading solo's and smiles to a very appreciative audience.
With a vibrant trade/demo area in the upper level our new venue (and current venue) St Mungo's High School helped us host our 2nd amazing drum show.
SCOTTISH DRUM FAIR 2014.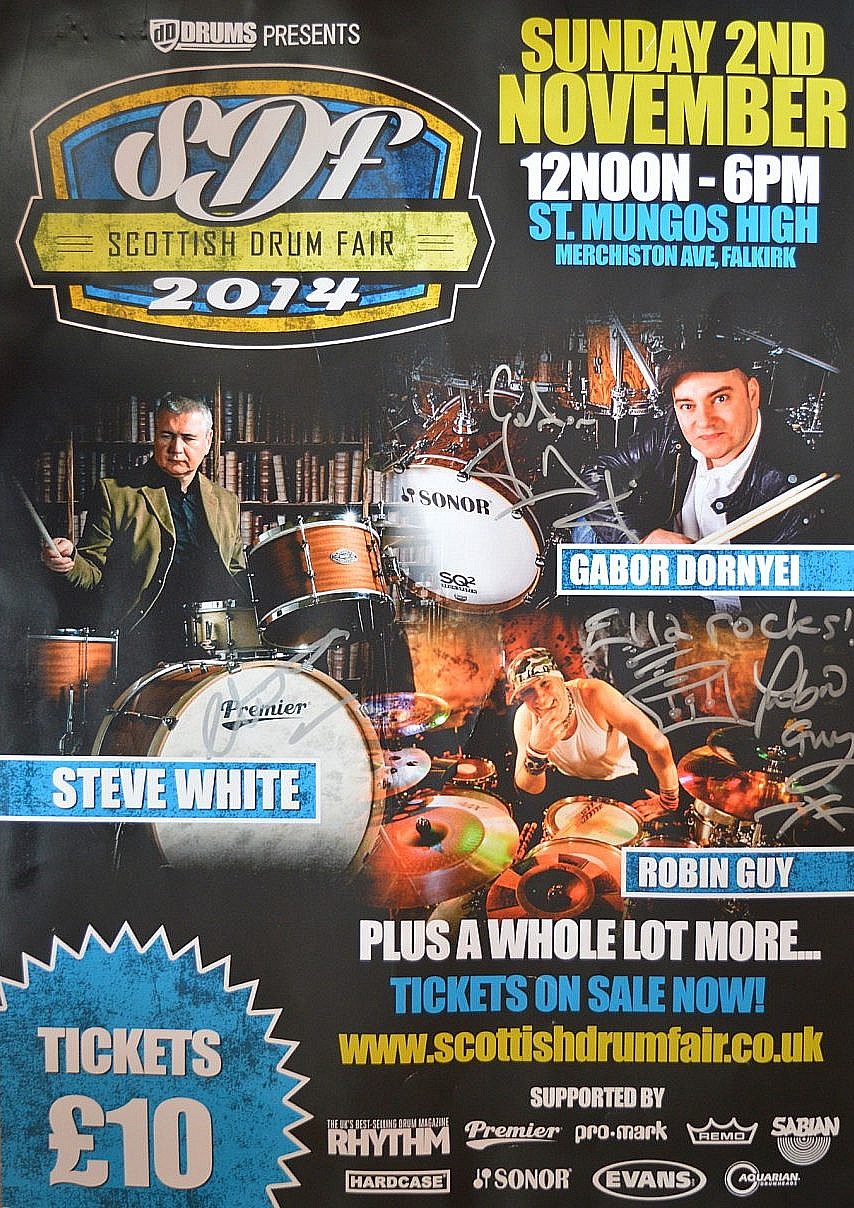 High on ambition our 3rd show hosted a National competition to find a drummer to open the festival. With the power of social media and the help of the 2014 drummers on the bill we discovered the tasty talent of Dave McKeague who did himself proud to an excited Scottish audience.
This year we had flair in abundance with the incredible Robin Guy. Robin is quite a force in every way and had the SDF crowd loving not only every groove but his every word as he rocked out and imparted some seriously cool life hacks for the working drummer.
Following Robin we had the unbelievably talented Gabor Dornyei for his first clinic performance in Scotland. Gabs with his multi limbed co-ordination had most jaws dropping and entertained us all with his incredible playing not to mention his awesome audience participation.
Headlining this drumming bonanza was the gentleman of the UK drumming scene Steve White. Steve showed exactly why he's held the most prestigious drum thrones in recent rock history. With a particular focus on education and influencing the younger generation he was a big hit all round.
The show closed with all 4 of the players soloing and grooving off each other – Robin even had time to take a selfie video of the jamming mayhem. Genius!
This year we also had a few performances in the trade area with Ted McKenna, Matt Eaton, Rich Kass and Alan Brown showing some tasty grooves and chops. Number 3 was a cracker of a day with a great vibe.
SCOTTISH DRUM FEST 2015.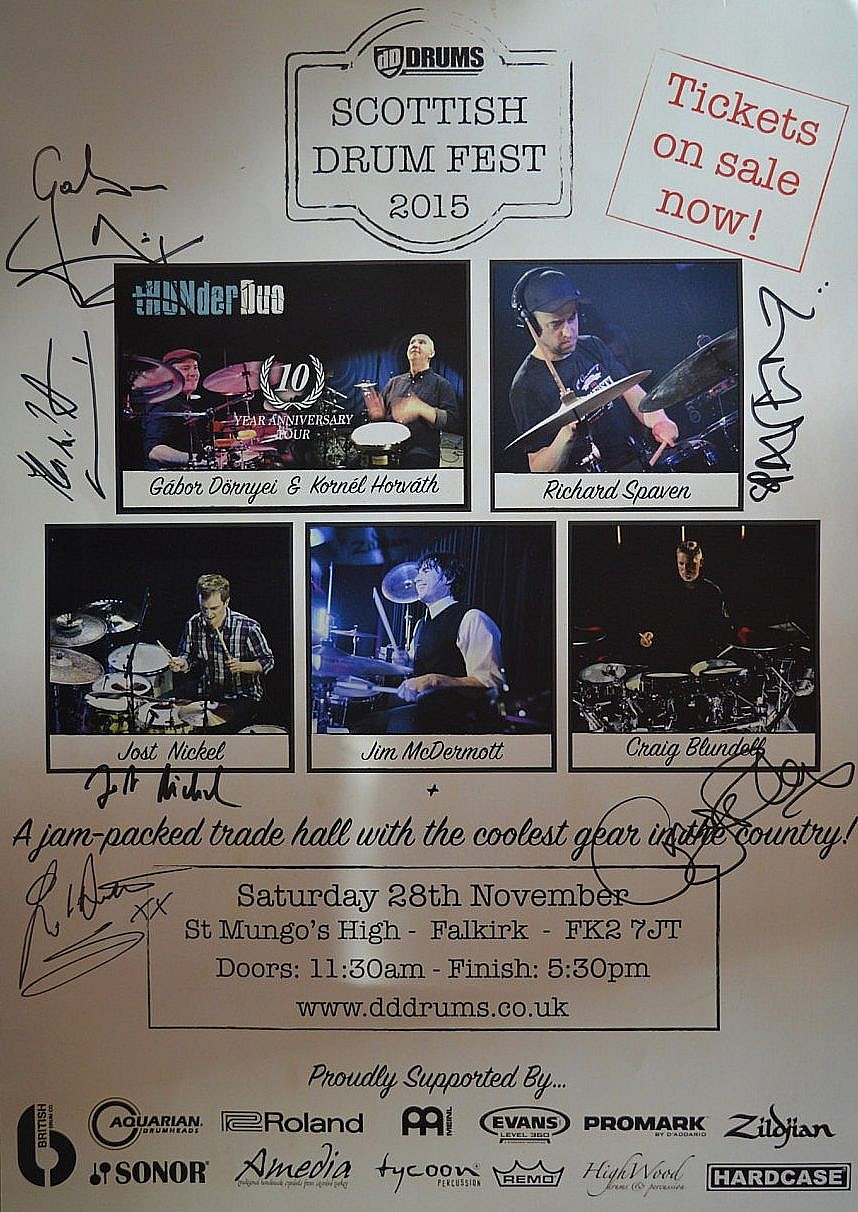 Our 2015 offering had us see a change of name from Drum Fair to Drum Fest (as pesky John Smith had suspiciously bought our Drum Fair domain…) and also a change of day to the Saturday to fit with a performers tour schedule.
Kicking off with Craig Blundell saw 2015 launch in serious style as he motored his way through some unbelievable playing with beautiful ease. Craig demonstrated exactly why over the years he's became one of the first call drummers for too many projects to mention but most significantly why he is now sitting in the drum throne for Stephen Wilson.
Scottish session drummer Jim McDermott was up next with a heads up on how to really do it. Demonstrating both lovely groove and crazy playing through various styles including some traditional celtic music. Ending with an informative Q and A . Everyone loved Jimbo!
German super drummer Jost Nickel was up next and his sublime grooving ability had the whole audience sitting to attention with ample foot tapping as he solo'd and grooved up a storm. Also displaying an educational and funny side.
Richard Spaven then showed Scotland why he was rapidly increasing his popularity with his very cool vibe of jazz and dance drumming. Richard created an amazing atmosphere in the room playing a selection of his songs to a hypnotized Scottish Drum Fest audience in his effortless flowing way.
This years  show closed with Thunder Duo who were celebrating their 10th year with an Anniversary tour. Featuring Gabor Dornyei and Kornel Horvarth we were spoiled with a collection of compositions and improvising that displayed all the colours of what drums and percussion only could achieve. To close the days drumming with these guys musical adventures was a pleasure indeed.
So our 4th event was certainly a day that all the big boys came out to play.
Finally… 
In addition to all these players who brought us out of the house to be entertained, educated but mostly inspired there are always a whole host of dealers, traders and brands that have helped to create these days. So much so that without their help it simply could not happen
By inviting and working hard alongside global giants such as Meinl, Roland , Evans and Ludwig, UK builders such as British Drum co, Murray, VK and Duallist without forgetting industry good guys from Hardcase, Amedia, Shaw and CymbalMagic we've formed a recipe that delivers a show well worth repeating on an annual basis but more importantly – well worth attending.
Stay tuned and see who's on the team sheet for this years 5th annual show.
Thanks for reading.
David