Let Us Help You Be The Drummer You Want To Be
Become a better player right away by studying with a tutor who will help you start to realise your potential in days or weeks instead of you going the DIY route, which could take years and lead nowhere.
With our team of top tutors we cater to all ages and abilities – from starters just getting into drumming, to intermediate and pro players wanting to upgrade their playing or expand their style capability.
Phase One of drum education at dD Drums is where we aim to give students a solid foundation in the world of drumming. We start from the ground up and cover the basics of technique, rudiments, reading music and how you can put all these elements together to start playing your favourite songs! We will help you progress through our own education framework as well using the Rockschool syllabus ensuring that (with a little practice) you will be a better drummer every time you leave a lesson.
Phase Two is where we step things up a notch! We start looking at some of the more complex areas of drumming, as well as increasing students' abilities in reading and technique. As we progress through new concepts we encourage students in this phase to make use of our frequent guest teaching days and workshops. This is also the phase where we start coordinating with students' school, college or university education where applicable, ensuring you develop at a pace that lets you hit educational targets.
Outside of these outlined courses, we specialise in just getting people to be where they want to be on a drum kit. Whether you're a complete beginner wanting to try your hand, or a experienced drummer looking for some tips and pointers on how to improve your playing dD Drums are here for you.
Our lessons take place Monday – Thursday evenings and Saturday daytime.
A limited number of spaces outside these times can be arranged.
 We encourage students to book lessons at time increments that best suit them. If a onehour session fortnightly is more convenient than a half-hour weekly session, let us know and we'll make that work!
We have 5 dedicated, enthusiastic teachers here at dD Drums. They have a breadth of experience and are all talented and accomplished players. These guys love drumming and they never fail to inspire our students through their lessons.
David started dD Drums as a teaching practice back in 2001 and continues to teach our more advanced students. After playing with everyone from touring rock bands to theatre shows, David has grown dD Drums from the ground up.
Johnnie is a world champion pipe band drummer and member of the Drums Of The Black Bottle. His amazing pair of hands made their way on to a drum kit to the benefit of all his students here.
Chris learned to play the drums at dD Drums and after a few years of gigging he came back to teach the next wave of drummers.
Kyle, like Chris, was taught drums by David here. He is currently completing his degree in music, making great music with a few bands and is proving himself to be a talented educator.
Robbie is the newest member of our teaching team, but with a degree in music and a cracking CV of bands he's already a hit with our students.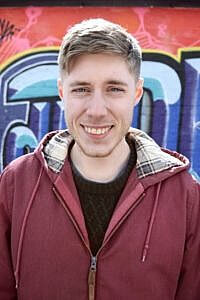 We get to host some incredible guest teaching events here at dD Drums. We've had international heavyweights such as Gabor Dornyei, Claus Hessler and Craig Blundell come here for clinics, one-on-one lessons and workshops. Two of Scotland's best drummers Jim McDermott and Rich Kass are here on a regular basis. We also host Operation School Break during the summer months, allowing kids to be inspired by pro drummers like Ted McKenna, Hannah McKay from the Amorettes and Scottish hip-hop monsters Hector Bizerk!
Check out the listings below to see what we have coming up…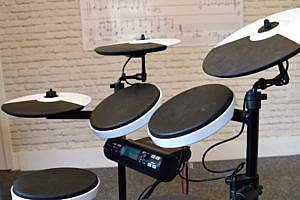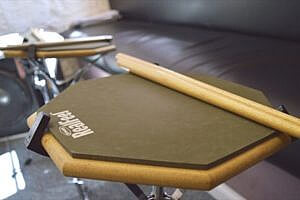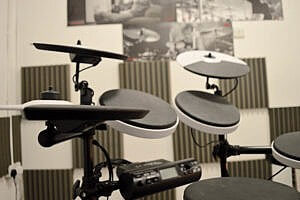 Our drummer rehearsal room is a space where you can bring your kit to enjoy a few hours of unlimited noise making!
We have some great kits that are available for use in our rehearsal room.
A 3 hour session using our Sonor Force kit is priced at £15
A 3 hour session using one of our premium vintage kits is priced at £20