Well, what can I say? Really! After months of preparation our 5th annual Scottish Drum Festival has come, been a smashing success… and is now gone. Well, gone until we – you, me and some great players – do it again in 2017.
I know you've heard a lot from me lately, so I'll keep this short. Well, shorter than it could be, as I've got so much to say and so many people to thank.
First, everyone who has attended over the years…
Aye, what would dD Drums and the festival be without you? As has been noted, some of the biggest cities in the world don't have a drum festival but we do in wee Falkirk. And that's because so many of you supported the idea from the start. Everyone said 'DO IT'. So I did.  Two notable's are my pals Jim McDermott and Craig Blundell, great friends who continue to be part of my support fabric all year round. There are others, and they know who they are. This list grows annually too.
I thank you all.
The festival happens because I love music,love the groove and I LOVE to see it being played up close. When I studied with Ted McKenna I'd marvel at his movements (still do!) and facial expressions whilst listening to his notes (as no doubt Ted likely did back in the day  during lessons from legendary Glasgow big band drummer Lester Penman –  more on Lester for another day ;0).
It's entertainment but it's also about learning and living the music. That is why it is great to be have such fine players join with us every year. Last Sunday, Richard Kass, Kaz Rodriguez, Robin Guy, Ian Matthews and Benny Greb shared themselves – their time, talent, skills, insight and energies – for our benefit. They're the real stars.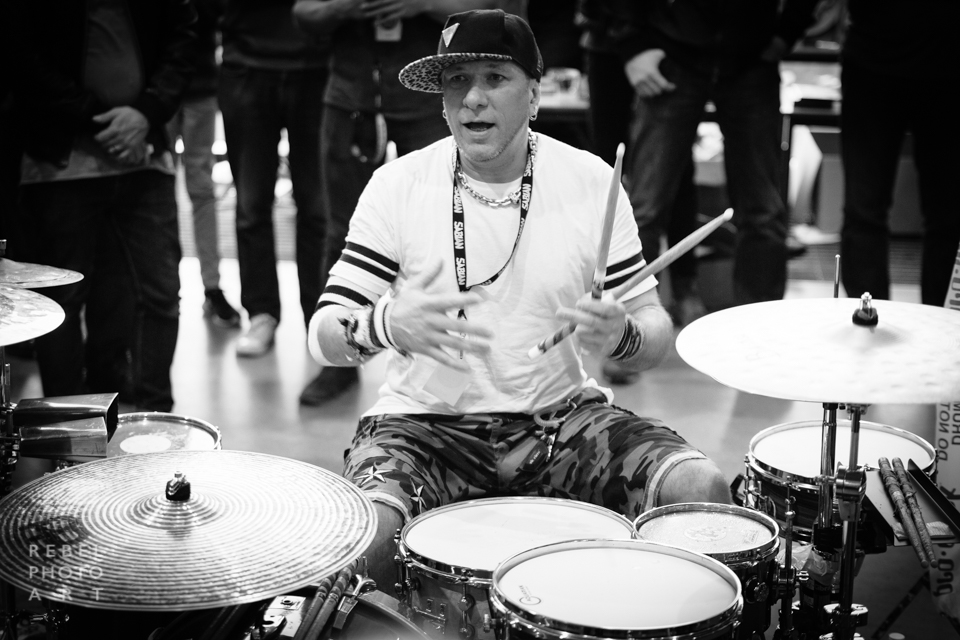 But they come, they go, then there's just us. They're our guests in Falkirk, and it's great we once again welcomed them to Scotland in style. They loved being here. They see what we've got happening in our wee corner of the world, and they can't believe it's all happening here in Falkirk. Falkirk!
Okay, I'm blethering….   but here's one more.    BOOM!     #notsorry
"BOOM" too – to the drumming students who treated the festival as an opportunity to see how they might sound if they stick with their lessons. Your presence meant a lot to me and to your own tutors no doubt. We're all learning together. Just ask Benny Greb, who was out front watching Richard Kass and backstage checking Ian Matthews do his thing. Or me, stunned by the creativity of the lads and how they make it look so easy. I learned a lot and I hope you did too.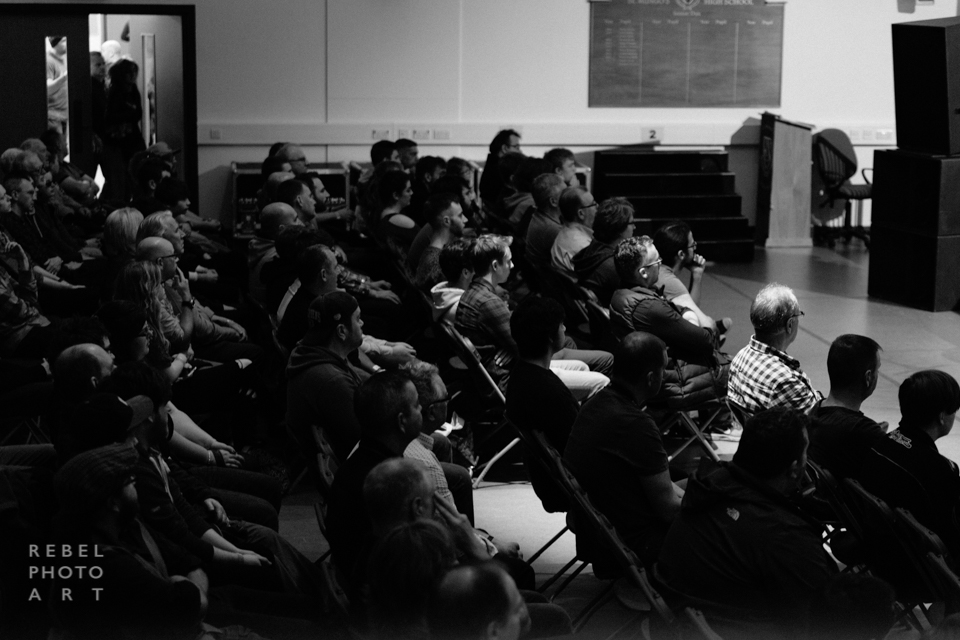 Outside of that stuff…
They couldn't all be at the show, but provided financial and logistical support, so thank you Jules from Roland, Bernie at Meinl , Keith at British Drum Company  . Also to the guys there on the day – most notably the D'addario trio Ben, Richard and Bruce, Orange Tag's David Jeans and Papa Grubowski at the helm of the SDF Café team. You guys entertained, enlightened, fed and watered us during the kit changeovers with a cool vibe and a good chat.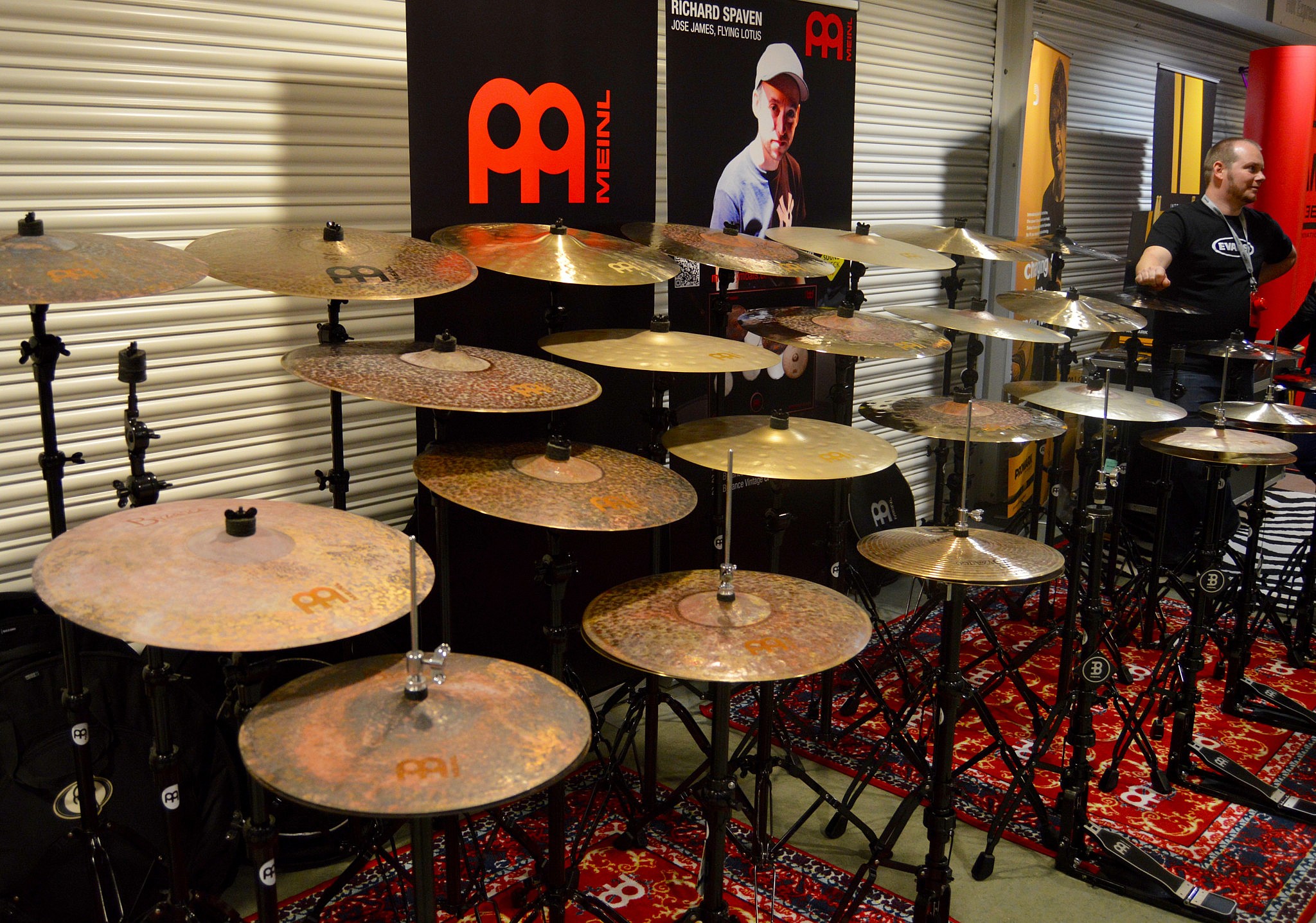 Some nice hand selected Meinl Byzance
Checking out the fantastic Roland kits
Also, let us all send a big hug of love – yeah, a hug of love – to those who pitched in to lift, lug, set up, tear down, get the word out… clean up and lock the doors when the music was over. Much good has been said regarding the dD gang and its exploits over the weekend, and I agree with it all. Those folk are local. They're friends and family, and staff at the school. They ensured everything happened so smoothly that even I was amazed. Thank you, thank you, thank you!  
So what's next?  Scottish Drum Fest 2017? Well, after last week I can assure you it's already in the works. And if you all come and even some of the others who wanted to but couldn't (though say they'll be there next year) also show up in 12 months time, that will definitely guarantee another show in 2018. Remember, this is YOUR show. True, I'm the guy onstage with the mic and all that, but the Scottish Drum Festival would not happen without your inspiration and support.
But until next year's show, do come out and boost your skills by studying with our visiting guest tutors and the regular gang of experts at dD Drums, Scotland's Funkiest Wee Drum Shop. We'd love to hear your comments about the festival and what you'd like to see happening in the future.
With much love and many thanks from me, Benny, Kaz, Ian, Robin, Richard and the dD gang to all of you,
David