The headline performance at the 5th Annual Scottish Drum Fest on Sunday the 30th of October 2016 will be Benny Greb!
Simply put I cannot believe that one of the greatest Drummers in the World is heading here for the show. It's going to be a cracker! Massive thanks to my friends Bernie, Ben, Udo and Norbert at Meinl Cymbals -not forgetting Benny himself – for making this years performance possible.
So please join me and the dD Drums family in Falkirk, Central Scotland for what is sure to be a legendary day.
Read on for a little taste of what's in store and the early bird ticket link.
dD
Ladies and Gentlemen Benny Greb!
This German born drummer needs no introduction for most of us but here's a wee sum up of what Benny has been up to including a couple of clips of the great musician in action…
Since starting drumming at the age of 6 Benny has grown into one of the greatest musicians – never mind Drummers – of the modern day. His mastered approach on the drum set see's him equally at home in musical settings like Jazz, Funk, Reggae and Rock with a prolific amount of releases to his credit spanning from 2004 to present day. Currently working with his trio Moving Parts who have just released their latest live offering of funky grooves with their own distinct dirty and jazzy vibe.
Click the photo below to see Moving Parts play 'Soulfood' from Meinl Drum Fest 2015.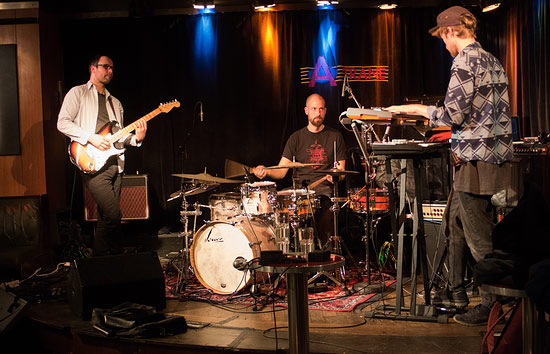 As an educator Benny is second to none. His 2 DVD releases "The Language of Drumming" and "The Art and Science of Groove" are essential viewing by most developing drummers worldwide.
As clinician Benny has toured the world many times over performing at the biggest of Drum Shows everywhere. His fine playing and approach to music has been influencing the next generation of drummers and anyone else who cares to listen for quite some time now.
Benny exclusively endorses Meinl Cymbals, Sonor Drums, Remo heads and Vic Firth sticks. He has a very successful range of signature series cymbals designed by himself and Meinl – known as the Sand Series, uses Sonor's Vintage series drums with the Benny Greb Signature snares and also has his very own Vic Firth Signature stick.
Here's the cockpit view of Benny's kit after his performance as headliner at Meinl Drum Festival in 2015 when he and Moving Parts played a very memorable show to his Meinl family and home audience.
This incredible drummer has been a firm favourite in the UK since his very first clinic tour in 2006 when he toured with Rodney Holmes on a Meinl Cymbals clinic tour. I witnessed this show first hand and watched the mans incredible musicianship and groove in awe and knew instantly that his playing was the future of tasteful drumming. I've been a big fan ever since – thankfully his popularity on the scene has grown massively over the past 10 years offering plenty opportunities to follow him. Not forgetting the interview footage in the biggest magazines worldwide, gracing covers of every one imaginable or the incredible video footage available online.
Whet you're appetite further with this amazing clip from Drumeo Channel of the man himself performing  'Grebfruit' from his solo album of the same name.
This upcoming performance at the Scottish Drum Fest 2016 will be Benny Greb's first solo appearance in Scotland since 2013 and is set to be very special indeed with Benny himself very excited to share his playing and vibe with us all.
Thanks for reading and sharing in my excitement!
I hope we'll see you there.
David
Early bird ticket deals are available via clicking the image below.