We are delighted to announce that Richard Kass will be performing at the Scottish Drum Fest 2016.
Without a doubt Richard is one of the busiest drummers in the UK right now. Well deserving of testimonials such as "There are so many ace players in the UK, Richard Kass is one of them…a polyrhythmic monster" from legendary UK drummer Steve White. Sharing stages and studios with pop acts such as Sugababes through to incredible musical legends such as Dame Evelyn Glennie clearly showing Richard has it all going on.
With well honed techniques and musicality in abundance, Richard displays instantly the musical freedom one can dream of by working hard, but with a musicality that simply must be a gift.
So please join us on Sunday the 30th October 2016 and see Richard's playing for yourself.
Please read on for a few facts on this great player.
Click the link below for tickets to this great event.
Richard Kass
From his teenage years adopting Punk as his initial vehicle in our beautiful city of Inverness, through to graduating from Edinburgh Napier University with a first class Honours Degree and having studied with leading world players such as Alyn Cosker and Jojo Mayer – Richard's musical abilities on the drums are well earned.
A career to date as a busy freelance session drummer has seen him supply groove to pop acts, Grammy nominees and legendary Jazz players with a sizeable back catalogue of recordings to his credit. Although it is his work within his own outfit – Trio HLK that allows him his own voice.
Trio HLK summed up beautifully as 'improvisation and intrigue with the infinite art and science of rhythm' featuring Richards polyrythmic virtuosity in abundance. Gaining the respect of the jazz scene in the UK and earning them some incredible musical friends such as Dame Evelyn Glennie and Steve Lehman who have both collaborated on the bands latest recordings. Not forgetting Snarky Puppy's Cory Henry who joined the band to play live at last years Edinburgh Festival. Check this clip of Richards solo from that gig.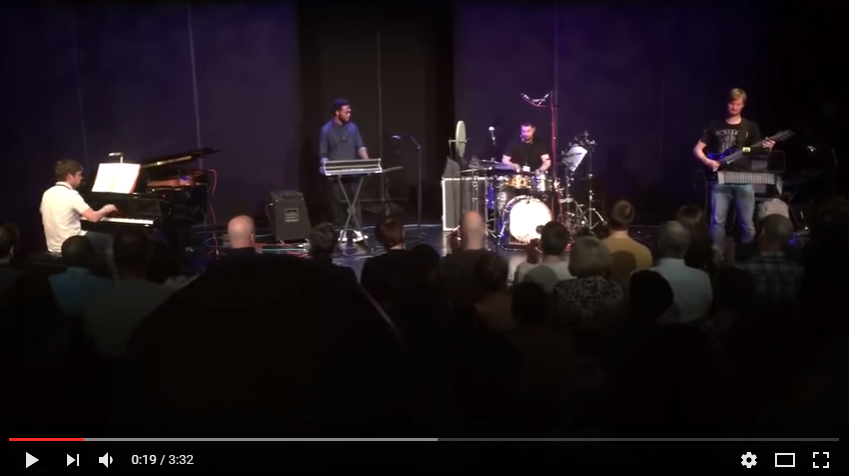 I first came across Richard when he played on the Cymbalmagic booth at the Scottish Drum Fest in 2014 and could easily see a great scholar of the drum set. With his focus on his musicality outweighing any other purpose. Stretching the bounds of rhythm and capabilities to new levels and most importantly making great music.
With a respectful ability to push himself to be the best he can personally be Richard also finds time to help others in their pursuit imparting his knowledge in the some of the UK's top education establishments.
All round inspiration, good guy and phenomenal player that I cannot wait to let you see at the Scottish Drum Fest 2016.
I'll end this blog with one of my own personal favourites. Guerrilla footage of Richard playing a Murray drum kit in the shop and turning it into a full on storm of Percussion.
Thanks for reading.   David