I'm delighted to announce that our Special Guest at the 5th Annual Scottish Drum Fest on Sunday the 30th of October 2016 will be Ian Matthews.
Ian is most widely know as the drummer with dance/rock band Kasabian and is without doubt one of the most relevant drummers of this genre. With a monstrous groove and power Ian's drumming simply put, sells recordings and fills stadiums and festivals worldwide. Thanks so much to Ian for being part of our Scottish Drum Fest 2016.
So please join me and the dD Drums family in Falkirk, Central Scotland for what is sure to be a legendary day.
Read on for a more information on this great player.
Get tickets by clicking the image.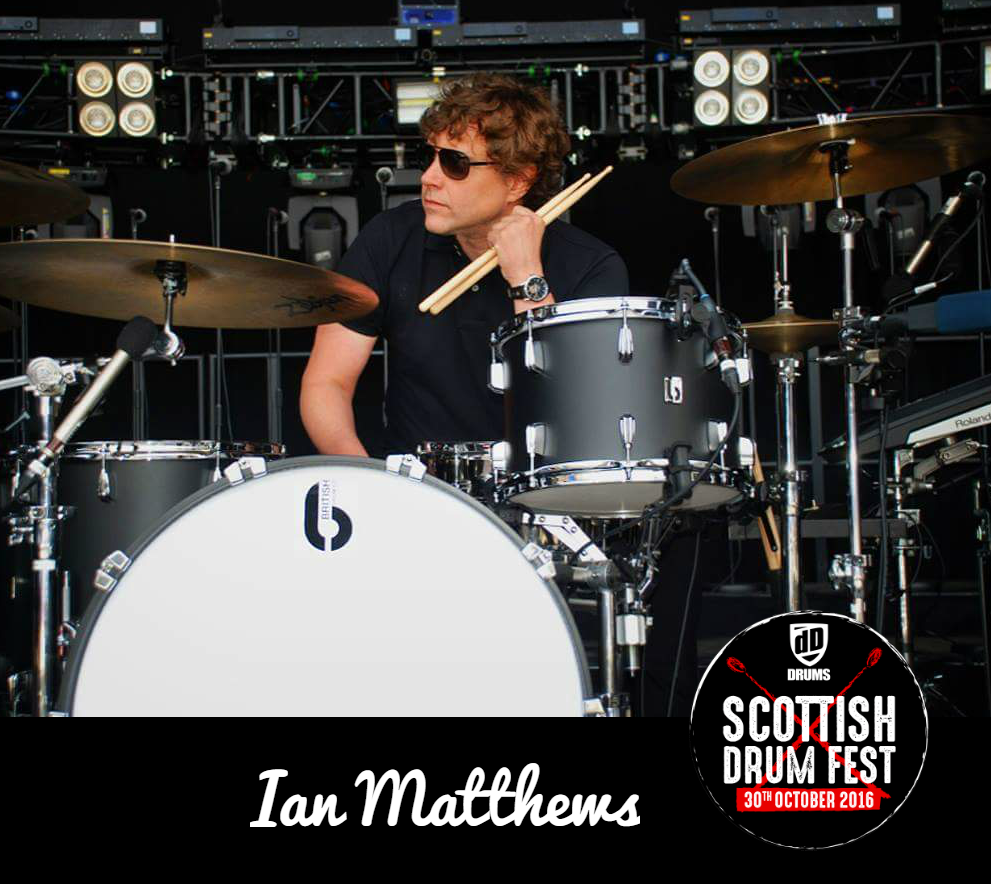 Ian Matthews
Being a drummer from his early years, Ian served his time playing with his Dad's band, jazz bands and also orchestras in the theatres of Bristol. As a working drummer Ian played in various live, teaching and session drumming situations, but it was ultimately his drumming on early Kasabian demos that served him best and helped forge the sound of their rock with groove and dance with power style.  A style they have pioneered through their 5 no. 1 albums, winning awards, selling millions and packing stadiums and festivals Worldwide with their amazing live energy.
Check this clip of Ian rocking on Kasabian hit BumbleBeee from 2014. 
Outside of his work with Kasabian Ian continues drumming around his home town of Bristol on the jazz circuit and also records with Bristol band James Morton's Porkchop. Having 2 album releases with Don't You Worry 'Bout That and more recent release The Kid that featured a few special guests including Fred Wesley and Pee Wee Ellis from the legend James Brown's Band.
Alongside drumming Ian has found a great outlet for his passion of drums (being a self confessed 'drum geek') he grabbed the opportunity to found British Drum Company  alongside master drum builder Keith Keough, comedian Al Murray, Royal Marines marching drummer Stuart Warmington and design engineer Al Kitching.
The gang launched their products at London Drum Show 2015 and have since gone from strength to strength offering a product range from accessories to the most beautiful drums available, attracting a huge fan base instantly within the drumming community.
It goes without saying that Ian will be playing a beautiful new British Drum Company kit at the Scottish Drum Fest 2016 along with his Zildjian Cymbals, Remo heads and Vic Firth sticks
Click below for more on the British Drum co.
Opportunities to see Ian up close like this and learn from his approach/be inspired by his sound are a rarity as you could imagine and outside of a few appearances for similar drum communities such as Mike Dolbear and Freddie Gee, Ian's calendar is mostly full of gigging and recording commitments.  That said, he has been a great friend and supporter of our drum show having headlined our Scottish Drum Fair in 2013, playing a blinder of a show!  Many will remember Ian grooving to Kasabian tracks and showing the many other sides to his well earned skills by soloing tastefully with his hands and brushes.
Last year Ian flew up to our show to check out the players and hang out with us all and treated us to this impromptu solo on one of his BDC kits in the trade hall. Check it out below.
Quite simply, Ian is a massive lover of the art of drumming, musicianship and has a well deserved 'good guy' status in many circles. These are the essential ingredients towards working at the level of this great player. So get yourself along to the Scottish Drum Fest 2016 and check Ian Matthews out for yourself.
I'll end this blog with one of my favourite Ian stories…
I once had the pleasure of a chat with the one and only Zak Starkey of the Who (also Ringo Starr's son) on his favourite drummers, revealing  ' Ian is my second favourite British drummer ever '  I knew the answer of who was first but I just had to ask just to hear it for myself. Zak replied with ' me Dad! '
Showing he's not only loved by his fans but also his peers.
For legendary contribution to drums, drumming and good guys I thank Ian for being our special guest on this great day.
Hope to see you all there!
dD