In a Facebook post dD Drums' pal Wayne Blanchard recounted how Black Sabbath's Bill Ward told him that he and his mate John Bonham would get together with pals at a drum shop in Birmingham city centre and jam out ideas on a kit. Apparently the owner was a huge Bernard Purdie fan, so the lads would all jam away on Purdie grooves.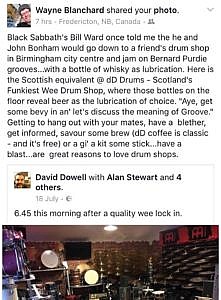 Imagine if Bernard Purdie actually showed up one day and said: 'Okay, I'm going to show you how it's really done.' Ward and Bonham were no slouches but some time with Purdie would likely have enabled them to understand The Groove and how to make it happen so much quicker. And better. It could have saved them years of wondering if they were getting it right. There are few things worse than feeling insecure about your drumming, right?
Well, back then drum clinics, at least for rock drummers, didn't exist – Carmine Appice would change that but not until later in the 70s.
But right now, in 2016, they do and there will be four masters of the Groove at the Scottish Drum Fest, when rhythm magician Benny Greb, Kasabian's highly versatile Ian Matthews, session ace Richard Kass and fast-rising hotshot Kaz Rodriguez take the stage on Sunday 30th October.
Each performance will be an opportunity to see and learn as much as you might from years of living la vida local…where there are only so many chances to see great drummers do their thing.  The Scottish Drum Fest allows you access to the drummers and their playing so much better than any seat at the SECC ever could.
Why not bring a notebook to remind yourself of all the ideas you'll encounter and to get the contact info of the new friends you make while checking out the gear show between performances?
Yes, if the SDF were happening back in the day, Bill Ward and John Bonham would have been there. They'd have made their way north to learn all they could in a day packed with a lifetime's worth of lessons.  Mr. Purdie too – who has expressed a keen interest in the past to perform at the Scottish Drum Fest – would surely have loved this years  great bill of drummers.  MMmmm… What you up to next year Bernard?
OK so I can get a wee bit carried away with myself…
Our festival is only one day of the year (though months of prep are necessary to make it happen) and the rest of the year we are dD Drums…great coffee, a good blether, fine gear and all that good stuff.
We are rather lucky, right? Hopefully one day some of our pals and students will be telling the media about the great times they had hanging out at Scotland's Funkiest Wee Drum Shop or attending the Scottish Drum Fest.
I and everyone else look forward to seeing you at the SDF on 30th October.
David Dowell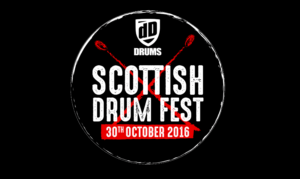 CLICK ABOVE FOR TICKETS