From the moment Richard Spaven arrived at Edinburgh Airport for his sold out weekend of teaching at dD Drums he was bouncing with enthusiasm and couldn't wait to meet his students. Unknown to me before his arrival, it turns out that the dD weekend was something of a rarity in Rich's calendar as his diary is constantly filled with sessions, leaving precious little time to get involved with regular teaching
Within seconds of Rich walking into the shop he was comfortably knocking out some of his trademark grooves on our kits. As a massive Spaven fan, this was an awesome experience and served as an appetiser for the days to come.
'Truly phenomenal' would accurately describe the sounds and grooves Rich makes from a kit. Evidence of this can be easily found on any of his material online (if you've never seen him play – DO IT NOW!), but experiencing exceptional players like Spaven in the flesh from just a few feet away is something that always amazes me. So after trying all the shop kits and all our handpicked Meinl Byzance cymbals, we set up his Yamaha Maple Custom with his own personal Meinls for a weekend of very tasteful playing and drumming education.
One-to-one lessons were held all day Saturday and Sunday with every space selling out in advance. There was a huge level of excitement from all students, evident from the moment they turned up for their pre-lesson coffee. This excitement was justified as Richard's lesson preparation was on par with his playing. He had loads of beats transcribed from his most popular songs and drum-less backing tracks, as well as great ideas and concepts to help students get their head around his incredible style. All of this was delivered in the warmest and most helpful of ways, and at times bluntly factual!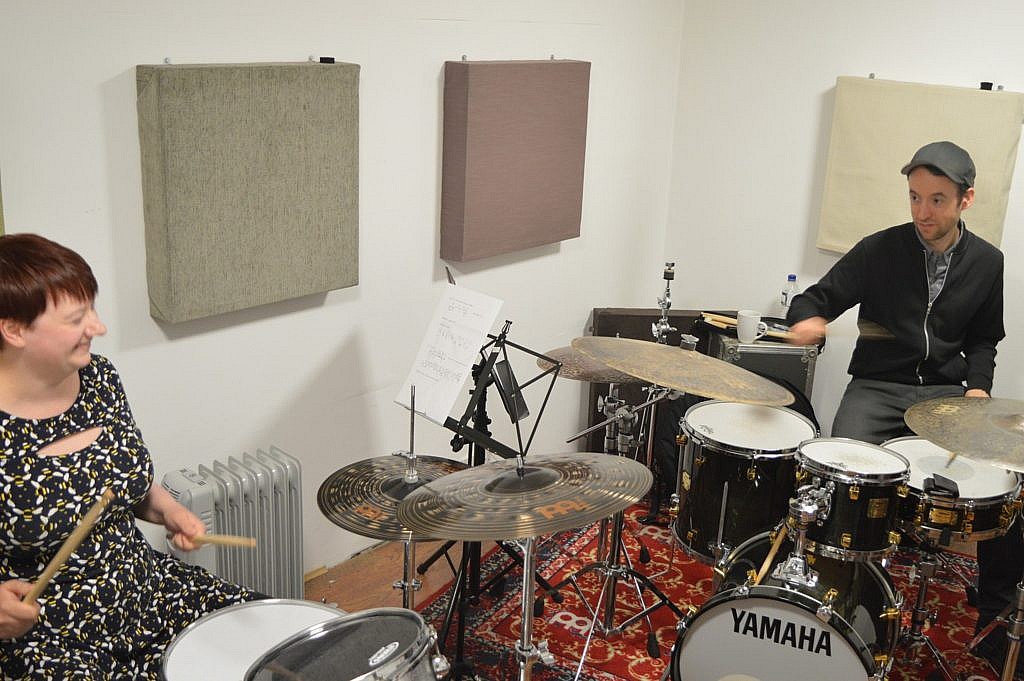 Of course a highlight for all was Richard's own jaw-dropping playing and the opportunity to groove with him during the lessons. In order that we run to schedule I had the unenviable task of 'calling time' at the end of each lesson. Without exception the excitement every time I entered the room was off the scale. Everyone loved their time and benefited massively from their lesson.
On the Sunday night we hosted 'An Evening with Richard Spaven'  – One of those relaxed coffee/beer vibes in the shop that again was completely sold out. We all sat around on drum stools and listened as Rich explained the background to a lot of his grooves and songs with interesting and often funny stories from the world of Spaven. As well as these great insights to his creativity he treated us to up close versions of all his tracks including Angel by Jose James and his own hits Side II Side and B-Line. Richard also used the casual vibe of the night to road test some new tunes that he's been working on to great affect and everything he played met with huge applause and appreciation.
Richard truly gave something to everyone over the weekend being not only the fantastic drummer we already knew but a great educator and very inspirational character to spend time with.
Please check our photo album of the weekends activities here. Also includes feedback from some of the students on their experiences over the weekend
We can't thank him enough for including us within his heavy workload.
Quite simply Richard Spaven is a Legend.     dD